---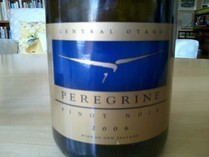 Peregrine Pinot Noir 2006 Central Otago New Zealand
Peregrine Wines is located in the mountainous region of Central Otago in the South Island of New Zealand. A region which has recently become the home of New World Pinot Noir. The fruit for this Pinot Noir is hand-picked from 11 sites around the Lowburn, Bendigo and Gibbston regions. As well as producing quality wine Peregrine helps with the conservation of New Zealand's native birds, the Saddleback and Mohua.
This wine had been ageing nicely in a cellar in Göteborg, Sweden for a number of years. Still full of concentrated cherry, raspberry and spice. This wine was holding up nicely and came through with earthy aromas and slight vanilla nuances. A Beautiful wine enjoyed with fun people.
---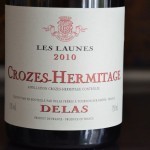 Les Launes Crozes-Hermitage 2010
Crozes-Hermitage covers a large area on the eastern bank of the Rhone river, around the town of Tain L'Hermitage in France. 90% of the wine made here is red wine and is predominantly made from Syrah. Other grapes used are Roussanne and Marsanne. Hermitage has a mesoclimate with granite bedrock whereas some areas have a predominance of clay and limestone. Wines made from the Crozes-Hermitage region can fetch high prices in the wine maket and is home to some the world's most prestigious estates.
13% alcohol. This wine is very musty and spicy. It is a wine that is terroir driven. Full of earth, spice and dark fruit. On the nose you find pepper, earthy damp dirt, ripe cherries and plum. The palate is lacking fruit and showcases the terroir of the Rhone with its complexity and style. If you are interested in what an old-world wine is like then look no further. 
---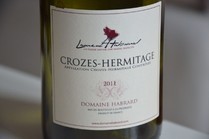 Domaine Habrard Crozes Hermitage 2011
Domaine Habrard maintain 14 hectares of vines in the Crozes Hermitage region of France. Syrah is king in this part of town. The vines are 40-60 years in age and are cultivated on granitic soils with loess and Rhone alluviums. The grapes are hand harvested with the vinification done in concrete tanks. The Ageing takes  2-4 years with native yeasts encouraged during the winemaking process.
This wine is obviously young and should be cellared for 3+ more years for optimum drinking. The wine is still lovely now with an almost black colour. Big blackberry and pepper on the nose with nuances of clove, licorice and nutmeg. On the palete is toasty vanilla, earthy plum, cinnamon and raspberry flavours. A thought-provoking wine. 
---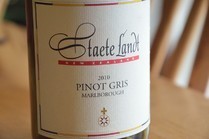 Staete Landt Pinot Gris 2010
Located in the famous Rapaura district, Staete Landt specialise in Sauvignon Blanc, Riesling and Pinot Gris. Staete Landt derives it's name from the country's first map made by discoverer/explorer Abel Tasman in 1642.
This Pinot Gris was handpicked and whole bunch pressed. Slow barrel fermentation in old French oak has infused this wine with full bodied pear, citrus fruits and cedar wood nuances. A lovely fresh wine that is a perfect accompainment to salads and seafood. 
---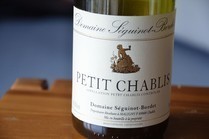 Domaine Seguinot Bordet Petit Chablis 09
The Seguinot family can trace their roots back to 1590 in Chablis where they first began making wine. The vineyard rests on sloping hills on the right bank of the serin river where rich soils are known for their iodine character.
This wine has a pale golden yellow colour. The nose holds bright floral notes with melon and butterscotch. A mineral infused palate with lovely melon, lemon and peaches. Fresh on the finish. This is a wine that would age gracefully.
---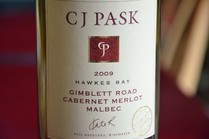 C J Pask Gimblett Rd Cabernet/Merlot/Melbec 2009

C J Pask was the first to plant vines at Gimblett Rd in 1981. Four years later the first vintage of 1985 Cabernet Sauvignon was winning awards and praise. The Pask vineyard estate has expanded to 90 hectares and is now one of New Zealand's leading wine labels.
This Cabernet/Merlot/Melbec is a very smooth drinking Bordeaux blend. The Cabernet gives some strength to the wine and the Malbec and Merlot bringing some soft supple texture. Their is lovely cherries and dark fruits on the nose with a palate of concentrated fruit, earthy characters as well as some vanilla. Delicious and easy drinking.
---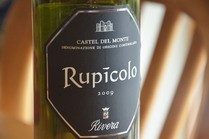 Rupicolo Rupicolo Castel Del Monte 2009
Grapes for this wine were grown in the Murgia Hills northwest of Bari, in the Castel del Monte DOC zone. Grape varieties consist of 70% montepulciano and 30% nero di Troia. The wine was aged for 10 months in fibreglass-lined vats. 12.5% alcohol. Bright cherry red colour. Easy drinking and smooth on the palate. The Multepulciano grape gives the fruitiness whereas the nero di Troia gives structure. Nicely priced at approx 20$. 
---