---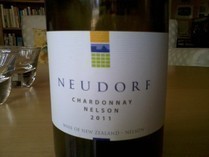 Neudorf Chardonnay Nelson 2011
Neudorf hails from the beautiful Nelson region of New Zealand. A place that has more than 2300 hours of sunlight a year. This weather creates rapid cooling at night which takes care of the development of flavours and leads to a gradual reduction in fruit acids. The combination of this weather and the soil in Nelson produce memorable white wines, particularly Chardonnay.
This Chardonnay is an iconic white wine in New Zealand. Often named as one of New Zealand's finest Chardonnays, this wine is well-balanced, soft, zingy, buttery, peachy and just plain delicious. It is the perfect wine to enjoy with seafood or lock away in the cellar.
---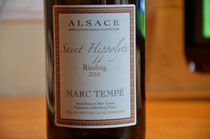 Mark Tempe Saint Hipp Riesling 2010 Alsace
The Mark Tempe cellars are located in Zellenberg, 1 km from Riquewihr, Alsace. The vineyard is 8 ha composed of thirty plots spread over the communes of St Hippolyte , Hunawihr , Zellenberg Sigolsheim and Kientzheim, each different from the other by the wealth and the nature of its soil and the diversity of its microclimate. The winery had a big year in 1995 when there was a transformation of the cellar.
This wine is made from grapes sourced from the St Hippolyte vineyard. The soils contain granitic brown acid, sandy soils. The wine is dry, light and peachy with awesome flavours of green apple, lemon and tropical fruit. Folow the link below for more information about this producer.

---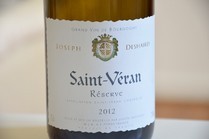 Saint-Veran Reserve 2012
This wine hails from the Saint-Véran commune in the Hautes-Alpes department in southeastern France in the Queyras Regional Natural Park. It is the third highest village in Europe and has a small population of approximately 300 people.

The Saint-Veran AOC is a Mâconnais subregion and specialise in Chardonnay. There are approx 650 hectares of vineyards on soils consisting of chalk and clay.
The wine is well-made and a good expression of the regions terroir. The nose shows mineral notes, melon and some butterscotch. The palate lacks fruit but is well-balanced and very Chablis-like. 
---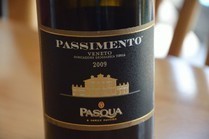 Pasqua Passimento 2009
It was in the 1920's when Nicola, the oldest of the Pasqua brothers moved to Verona to open up a wine shop. Since those early days the family has purchased vineyards in the Verona areas, Soave and Valpolicella. A new winery was recently built and unveiled which set down foundations for a long and successful future for the Pasqua family.
The grapes for this passimento were processed using the appassimento technique where harvested grapes are dried on wooden trays for up to a month until they've lost a 1/3 of their water content. The wine made from these dehydrated, superconcentrated grapes is famous for its intensity, flavor and concentration. This wine is nicely balanced with rich blackcurrant notes on the nose and dark berry flavours. Fine tannins coat the palate with a smooth and lingering finish. 
---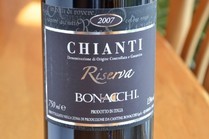 Bonacchi Chianti Riserva 2007
The Bonacchi company owns almost 100 hectares in and around Chianti Montalbano, Chianti Gallo Nero, Brunello Rosso di Montalcino and Montecucco D.O.C.
Aged in oak barrels before bottling. This wine is made predominantly from Sangiovese. Red brown in colour. This wine was showing its age. The bouquet was faint with nuances of cherries, strawberries and spice. The palate was ripe with sour cherries and some vanilla on the finish.
---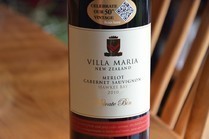 Villa Maria Merlot/Cabernet Hawke's Bay Private Bin 2010
I do not believe I need to introduce Villa Maria, New Zealand's largest and most successful wine producing family label. The fruit for this wine was sourced predominantly from vineyards located across the Hawke's Bay region. An array of soil types combined with high sunshine hours and low rainfall makes the Hawke's Bay New Zealand's 'home' to the French Bordeaux varieties Merlot, Cabernet Sauvignon and Cabernet Franc. A significant portion of this final blend was grown in Villa Maria's Gimblett Gravels vineyards.
This wine has aromas of red cherry, raspberry and cedar spice. Flavours of black cherries, blackberries and faint tobacco nuances is enhanced by fine tannins and good length on the palate. 
---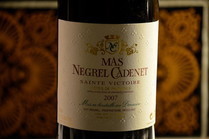 Mas Négrel Cadenet Rouge AOC Sainte Victoire Provence 2007
I brought this wine back from a lovely summer trip to Provence. I was lucky enough to visit Mas de Cadenet, where I tasted their wines and purchased their flagship rouge. 13.5% alcohol. Grape varieties: Grenache & Syrah. This wine has a beautiful, rich texture. Gorgeous garnet red colour. Packed full of spice and blackcurrant. This wine has the earthy, spicy aroma of the hot area of Sainte Victoire. A great wine to keep tucked away for 10 years.
---