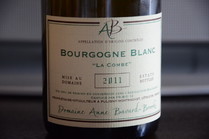 Domaine Anne Bavard-Brooks La Combe 2011
Domaine Anne Bavard-Brooks is a small domain in the heart of Puligny-Montrachet, France. They specialise in Chardonnay with two parcels of land including Les Equinces (1.9 acres) and La Combe (0.9 acre). They have been using biodynamic farming since 2005, and have been certified organic as of 2012. They produce only a small amount of wine, punching out around 2800 bottles a year from the parcel La Combe. 
This wine was raised for 12 months in French oak before bottling. Crisp apple, lemon and butterscotch aromas are followed by pleasing notes of pear, vanilla, rockmelon and almonds. It finishes nicely with lovely minerality. A rising star. Follow the website link below for more information about this producer.
---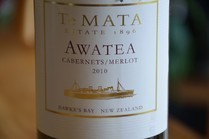 Te Mata Awatea 2010
In 1892 three parcels of land were planted on the hillsides above the homestead at Te Mata in Havelock North, Hawke's Bay. These vineyards are still used today to produce the famous Coleraine, Awatea and Elston wines.
Awatea means 'Eye of the Dawn* in Maori which was the name for a legendary ship in WWII that was sunk off Algeria in 1942. Awatea is made from the Cabernet Sauvignon, Cabernet Franc, Merlot and Petit Verdot grapes. These grapes are sourced from nine vineyards in Hawke's Bay. The Awatea is a wine made for cellaring and can easily last 10+ yrs.
The 2010 vintage was aged in french oak barrels for 18 months. The wine is very dark in colour, almost black. On the nose you will find blackberry, blueberry, rosemary and cedar wood nuances. The palate is powerful, well balanced and full of concentrated fruit. Along with fine tannins and nice acidity. This is a wine worth hunting down and adding to the cellar collection. A classic New Zealand red which expresses the terroir of Hawke's Bay perfectly. 
---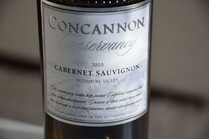 Concannon Cabernet Sauvignon 2010
Concannon are a founding family with four generations reaching back to 1883. They were the first Irish-American winery in America and first to label Petite Sirah in 1961. The vineyards are in the Livermore Valley and along California's Central Coast. The conservancy range consists of five wines from the Livermore Valley. The name conservancy derives it's name from the conservation trust placed by local winegrowers in order to protect the area from urban development for future generations.
13.8% alcohol. 100% Cabernet Sauvignon. This wine is big and bold. Full-bodied with cherry, blackcurrant and vanilla oak notes. The palate is soft and rich with pepper, plum, chocolate and tobacco nuances. A nice long finish rounds off a solid wine which will cellar for 5+ years. Good value wine here. You can purchase the wine by ordering online at their website. Follow the link below for more information.
---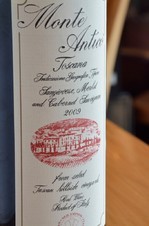 Monte Antico Chianti 2009
Monte Antico means ancient mountain in Italian. The wine itself comes from Maremma, Colline Pisane, and Colli Fiorentini. The Soil type includes very fine-textured limestone and clayey/calcareous.
The wine is fermented in stainless steel tanks, followed by maceration on the skins for 15-20 days before it is aged for one year in oak (80% Slavonian barrels, 20% barriques).
The wine is deep ruby in colour. A bouquet of black cherries, liquorice and plum. The palate is ripe with red fruit, vanilla and herbs. Smooth and lingering on the finish with slick acidity. Looking good after nearly five years in the bottle. 
---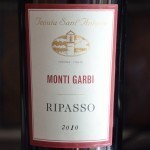 Tenuta Sant'Antonio Monti Garbi Ripasso 2010
This wine is the dream of four brothers in Italy. After purchasing 30 hectares of land around Mezzane and adding their fathers vineyard to the total vineyard area, they decided to produce their own wine label and take on the world market. Their quick success led to a new winery being built in the Monti Garbi area.
This wine is full bodied and concentrated. 14% alcohol. On the nose you find elements of dark fruits, gooseberry and vanilla. The palate is deep and thought-provoking. Layers of complex plum, spice and cherries.
---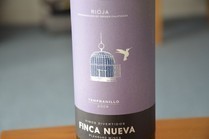 Finca Nueva Tempranillo Rioja 08
This distinct tempranillo wine hails from Rioja in Spain. Strong aromas of over-ripe cherries, old oak and sandy barns gives an atmosphere of windblown vineyards and old barns with chickens pecking at the earth. On the palate an unusual concentration of red fruits is balanced by complex oak and earthy characters. Near the end of the wine a sediment has formed showing its age. A slight sourness has creeped in, not enough to hinder the wine but adds a chapter to the story of this wine. 
---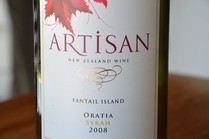 Artisan Oratia Fantail Island Syrah 2008
Artisan is one of Auckland's boutique vineyards which make some of the region's most unique wines. They also hold a weekly farmers market which is worth checking out. Grapes for this wine were sourced from organic vineyards in West Auckland. The 2008 Fantail Syrah is quite green on the nose with some pepper and chocolate. Subtle tannins with earthy red cherries and pepper saturate the palate. 
---