---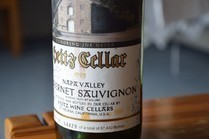 Heitz Cellar Cabernet Sauvignon 1997 Martha's Vineyard Napa Valley
Heitz cellars first started producing wine in 1961 and is now considered royalty in the Napa Valley. The grey stone cellar was constructed in 1898 and is now home to the french oak barrels of Heitz Cellars. Heitz vineyards are streched over 1000 acres located in the famed Napa Valley. The story of Martha's Vineyard Cabernet Sauvignon began in 1965 when the Heitz family joined with the owner of Martha's Vineyard the May family. This was the first vineyard-designated wine in the Napa Valley.
The bouquet displayed fine blackcurrant and chocolate with well integrated oak nuances. Beautifully structured on the palate with complex layers of plum, cigar box and cherry. This wine is made for the long term and at over 15 years old the wine was still in its young adulthood. This wine had a story of its own, passing through many owners represented by the signatures on the bottle. Follow the website link below for more information about Heitz Cellars. 
---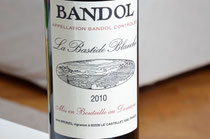 La Bastide Blanche Rouge 2010
La Bastide Blanche is a beautiful estate located at the foot of Castellet, one of the most beautiful villages of Provence. The 28 hectares of vines are located on the hillsides and are classified AOC Bandol. The vines are arranged in terraces according to the ancient custom where the soils consist of pebbles, clay and limestone which are dry and free-draining.
Baptistin Bronzo first acquired the area in 1972, when the vineyard covered only ten hectares. it has now tripled in size over the years. The most notable wine made from this estate is their Mourvèdre dominant red wine.
This wine is made from Mourvèdre grapes (approx 60%) with Cinsault and Grenache the other grape varietals used. This wine is big and bold. A wine which almost seems heroic. The nose is wild and powerful with layers of licorice, vanilla, dirt and black cherries. The palate is dark and dense. Strong tannins and big ripe black fruits dominate throughout. Big on approach and big on delivery. This wine wont disappoint. Follow the website link below for more information.
---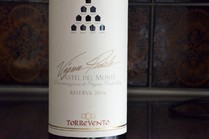 Torrevento Vigna Pedale 2008 Puglia
The grape used for this wine is Nero di Troia and the vineyard from where the grapes are sourced are located on the hills of the Casel del Monte DOC area, Puglia, Italy. The soil has a calcareous clay composition which suit the Nero di Troia variety. The cellar is located in large monastery caves which keep to the traditions of the region. The region has dry and hot summers as well as long and cold winters which suit the grape varieties grown. 

This wine was aged in oak barrels for 12 months before being bottled. 13% alcohol. Deep concentrated ruby red colour. The nose is intense with lovely red fruit, spice and floral components. The palate is rich, smooth and unique. Well-balanced with a juicy, lush texture to it. This wine is a gem and one of my favourite from Puglia. Follow the link below for more information about this producer.
---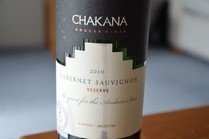 Chakana Cabernet Sauvignon Reserve Mendoza 2010
Bodega Chakana estate is situated in Mendoza, Argentina on a 150ha piece of land in Agrelo Lujan de Cuyo. The winemaking is headed by Liliana Lannizzotto and Gabriel Bloise. Malbec and Cabernet Sauvignon are the main grape varieties used.
This Reserve Cabernet Sauvignon is absolutely superb. Produced from the original vines at 950m in the foothills of the Andes. Aged in barrels for 12 months this wine is distinctly Argentinean. Complex aromas of blackcurrant, spice and chocolate precede a lovely palate layered with olive and blackcurrant notes. Complex and stylish, this is a wine that punches above its weight. A truely inspiring wine. You can find more information about Chakana on their website link. Chakanawines.com
---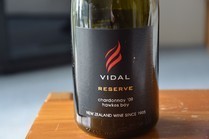 Vidal Reserve Chardonnay 2009 Hawke's Bay
Vidal Wines is a historical winery founded by Anthony Joseph Vidal who originally came from Spain to settle in New Zealand. Anthony first set up a winery in Hawke's Bay in 1905 along with vineyards in the surrounding area. Since then Vidal has become one of New Zealand's strongest wine brands producing award winning wines. The Reserve Chardonnay is a fine example of Hawke's Bay Chardonnay with a bouquet of melon, peaches and oak. The palate is complex with lovely acidity, butterscotch and white stone fruits. A beautiful wine to celebrate with any occasion. Follow the website link below for more information about Vidal and their wines.
---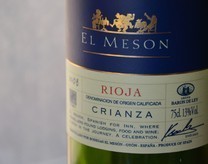 El Meson Crianza Rioja 2008
This wine is made from the Tempranillo grape and comes out at 13% alcohol. Blue/red colour. The nose has black berries, cherries and obvious vanilla. The palate is spicy, concentrated with ripe cherries and smoky cedar wood notes. This wine is well balanced, fun and full of chocolate flavour. The perfect wine to open over a game of chess or to have as a friend while you read your favourite book.
---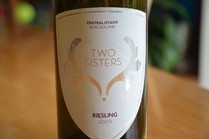 Two Sisters Riesling Central Otago 2008
I'm absolutely loving this Riesling. Made in an off dry style. Notes of lemon and floral characters on the nose. Well balanced and finishes nicely. Citrus fruits, lavender and perfumed passionfruit cover the palate. Exciting and thrilling, this wine is an awesome expression of Central Otago.
---