---
Alsace is one of the most beautiful areas in France. It is a region which has been influenced by both Germany and France over the last few centuries. The capital city is Strasbourg and Colmar being the capital city of Alsace wine.  Alsace is broken up into two regions: The Bas-Rhin (north) and the Haut-Rhin (south). It is the south region around Colmar where the best vineyards are located. These vineyards are called Grand Cru Vineyards.
Alsace is famous for their Riesling, however, the region also produces  large amounts of Pinot Blanc, Pinot Gris, Gewurztraminer and Crement d'Alsace. Alsace has three different appellations: Alsace AOC (Predominantly white wine), Crement d'Alsac AOC (Both Sparkling and Rose wine) and Alsace Grand Cru AOC (Special vineyards).
Below are some photos of Alsace taken from our recent trip. Areas include: Katzenthal, Ammerschwihr, Bennwihr, Riquewihr and Colmar.
Riquiwihr is a beautiful little medieval town in the hills of southern Alsace. It is a town taken straight out of a fairytale, with cobbled streets, colourful buildings, gingerbread biscuits, foxes and happy people. The wines are really good too. The town boasts old wooden houses dating back to the 15th-18th centuries. It is arguably France's most beautiful town. If you ever visit Alsace make sure you visit this quiet town, you wont regret it.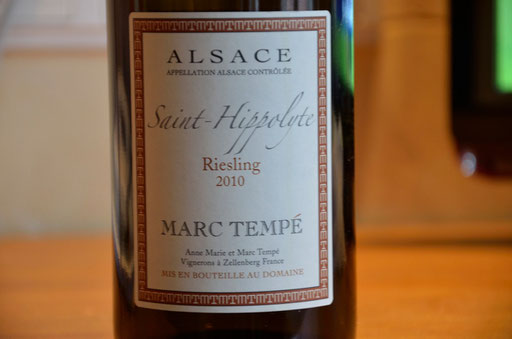 Mark Tempe Saint Hipp Riesling 2010 Alsace
 
The Mark Tempe cellars are located in Zellenberg, 1 km from Riquewihr, Alsace. The vineyard is 8 ha composed of 30 plots spread over the communes of St Hippolyte, Hunawihr, Zellenberg Sigolsheim and Kientzheim, each different from the other by the wealth and the nature of its soil and the diversity of its microclimate. The winery had a big year in 1995 when there was a transformation of the cellar.
 
This wine is made from grapes sourced from the St Hippolyte vineyard. The soils are granitic brown acid, sandy soils. The wine is dry, light and peachy with awesome flavours of green apple, lemon and tropical fruit. 89/100.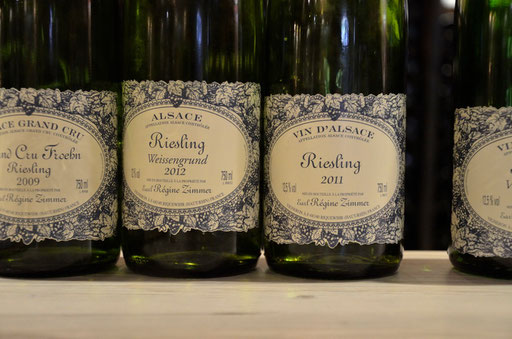 Maison Zimmer Vins Riesling Tasting
 
The house Zimmer is an independant winemaker, located in the heart of Riquewihr, Alsace, France. The cellar door is located down some stairs which is guarded by some stuffed foxes. The lady at the bar was very welcoming and gave us a wine tasting for most of their Rieslings including their Grand Cru.

The Riesling wines we tasted included the premium Riesling, Weissengrund and the Grand Cru Froehn. The Grand Cru had lovely lemon, lime and apricot notes. Perfumed and stylish, this wine was an explosion of alsace fruit on the taste buds. These wines are worth hunting down as they express the surrounding terroir of Riquewihr well.