---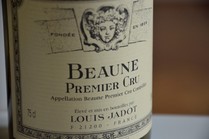 Louise Jadot Beaune Premier Cru

Louis Henry Denis Jadot founded Maison Louis Jadot in 1859. Since then the négociant house has expanded rapidly. Today Maison Louis Jadot controls 210 hectares scattered across the Burgundy region, ranging from the Côte d'Or to the Mâconnais and down into Beaujolais.
Aged in barrels for 15-18 months. This wine is made from 100% Pinot Noir grapes in the Côte de Beaune region. Powerful, tannic, and green. The nose is a punch in the face with herbs, black tea and earth. The palate is nutty with forest floor and blackberry nuances.
This Premier Cru was honestly a bit of a let-down. Quite full in body with a mellow texture but lacking anything memorable. The wine is reasonably OK but not worth the price tag.
---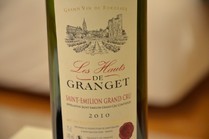 Les Hauts De Granget 2010


Saint-Emilion is situated a few miles north of the Dordogne. Not only is it famed for its beautiful town but also their wines. It boasts some of the most expensive wines in the world including Chateaux Cheval Blanc, Angelus and Pavie. The wine is made predominantly from Merlot, with Cabernet Sauvignon, Petit Verdot and Malbec making up the other grape varietals. Saint-Emilion Grand Cru wines are different to other Saint-Emilion wines in that they are restricted to 8,000 kg per ha rather than 9,000 kg at harvest, resulting in richer wines.

This wine is a beautiful underrated Grand Cru from Saint-Emilion, Bordeaux, France. Quite shy on the nose but with huge ageing potential. Concentrated and creamy yet with lovely aromatic blackberry, cherries and black olive nuances. Grippy tannins and a nice long finish make this a wine to remember. One of my favourite wines for 2013. Outstanding quality.
---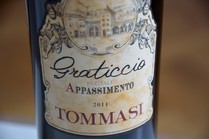 Tommasi Graticcio Appassimento 2011
The Tommasi family founded their company in Pedemonte 1902.
Today the Tommasi empire has 135 hectares of vineyards in the DOC area of the province of Verona and 66 hectares in Maremma Tuscany. The winemaking is run by the fourth generation of the family, which look to the future for expanding and improving the company.
This wine is made using the Appassimento method where the best grapes are selected and laid out in large perforated plastic boxes, to ensure excellent ventilation. The berries are not too close to each other, so that the air can circulate. The boxes are then stacked in the 'fruttaio', a large airy room where they dry out for three months. During this time the water evaporates from the grapes leaving condensed sugars in the grapes. The grapes used are Corvina, Rondinella and Merlot. After the three months the grapes are crushed and fermented at low temperatures.
13% alcohol. This wine is very approachable with big aromas of black cherries and blackberry jam. The flavour is packed full of red fruits, vanilla and thyme. Intense, smooth, rich and thick in the mouth. Enjoyable to the last glass. Follow the link below for more information about this producer.
---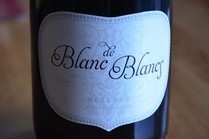 Allan Scott Marlborough Blanc de Blancs NV
This wine is made from only the Chardonnay grape and has been aged on yeast lees for 2 years, which gives this sparkling wine nice autolysis nuances. 'Blanc de Blancs' is vinified by firstly fermenting to dryness, then filtered and prepared for fermentation in the bottle. Just before bottling a sugar and yeast strain is added to initiate bottle fermentation.
12.5% alcohol. This wine has a pale gold colour. Mouthwatering lemony peach flavours make this a nice methode to enjoy as an aperitif. Follow the website link below to read more about Allan Scott and his wines.
---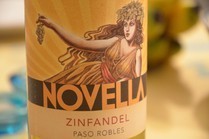 Novella Zinfandel Paso Robles NV
Novella Zinfandel is produced & bottled by Eos Winery in California. The wine is a NV non-vintage which means it was produced from one or more vintages, so it has not been vintage dated.
14.5% alcohol. Novella has a hazy medium garnet red colour. The nose is very fruit-forward with a bouquet of blackberry and raspberry. The palate of this wine is very dense with blackberry and raspberry fruit along with rich red plum and cooked berries. Minimal tannins give a thick texture and mouthfeel. This wine is creamy with an almost port aftertaste. The perfect wine to give to someone just discovering the world of wine.
---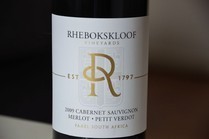 Rhebokskloof Vineyards Cabernet Sauvignon/Merlot/Petit Verdot 2009 Paarl South Africa
In 2006 Rhebokskloof was sold to a group of South African business people, who have since restored the Rhebokskloof farm to its former beauty. The winemaking at Rhebokskloof Vineyards and viticulture is managed by Rolaine Lotz and Karin Louw respectively.
This Bordeaux blend is finely made with a deep garnet red-brick colour. 14% alcohol. Red currant, blackberry and olive aromas with slight matchstick on the nose. On the palate there is complex red fruits, concentrated black cherries with a hot after taste. This wine is strong flavoured and warm. Follow the website link for more information about Rhebokskloof Vineyards and their wines. 
---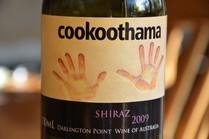 Cookoothama Shiraz 2009 Kings Valley/Darlington Point
The name Cookoothama "cooka-a-tharma" is the name of the vineyard at Darlington Point on the Murrumbidgee River, Australia. It is the aboriginal word meaning 'fertile land'. The two hands on the label represent the people who have lived and cultivated the land along the banks of the Murrumbidgee River.
This wine displays complex aromas of ripe berry, chocolate, earth and spice. This is a full-bodied wine with slick tannins and dense fruit concentration. Flavours of dark cherry and blackberry dominate. This wine is definately worth the price. Follow the Nugan website link below to find out more information about this producer and their wines. 
---