---
Deep in the heart of Côte de Beaune exists the worlds most famous Chardonnay vineyards. Here you will find the famed Puligny-Montrachet commune located south of Meursalt and north of Santenay. The appellation is very small and has approximately 200 ha of Chardonnay vineyards and less than 10 ha of Pinot Noir. The Chardonnay made at Puligny-Montrachet is known around the world for being some of the most prized and sought after white wines on earth.
Within the appellation exists four Grand Cru vineyards with Montrachet and Bâtard-Montrachet the most famous of these. Bienvenues-Bâtard-Montrachet and Chevalier-Montrachet make up the other two Grand Cru vineyards. As well as these Grand Cru vineyards, there are 17 Premier Cru vineyards which are spread out around the area.
The first thing that came to mind while biking through this appellation was how small the area is. Every bit of soil is accounted for and used for producing grapes. We visited a week after harvest so there was alot of grapes still left on the vines. Tasting these grapes as well as analysing the soil composition was worth the trip in itself. 
It was also quite an experience to visit the town Puligny-Montrachet. After biking all morning through vineyards from Beaune we decided to have lunch and found a local restaurant where we had a lovely meal with the friendly locals. On the menu was some Boeuf Bourguignon accompanied with some Pinot Noir made down the road. We also had a memorable tasting with a winemaker in a 'cave' near to the restaurant where we tasted some amazing Chardonnay and Aligoté wines (See tasting notes below).
The white wine made in Puligny-Montrachet is generally very precise and balanced with alot of minerality. The producers often use oak sparingly, choosing to express the terrior of the area as much as possible. If you are ever at a restaurant and you see the appellation Puligny-Montrachet Premier Cru on the wine list then you can bet on getting a quality white wine.
From the town of Puligny-Montrachet we travelled south to Chassagne-Montrachet. Chassagne-Montrachet is a quiet little commune boasting some world famous vineyards. The appellation shares the Montrachet and Bâtard-Montrachet Grand Cru vineyards with Puligny-Montrachet and has within its boundaries the Criots-Bâtard-Montrachet Grand Cru.
There are also 50 Premier Cru vineyards situated within the appellation which are just as good in quality as the Grand Cru. In total, the appellation consists of approxiamtely 350 ha of vineyard with Chardonnay being the dominant cultivar. Pinot Noir is also grown but in much smaller quantities.
Chassagne-Montrachet also boasts a marvellous Chateau which is located near to the town. If you bike through the vineyards as we did, then you will bike within close proximity of the Chateau as the track goes past its doorstep. Within the town of Chassagne-Montrachet you can find some very good tasting rooms called 'degustation' where you can sample the areas best wine and foods.
Visiting these two appellations was high on my 'places to see'. The area lived up to my expectations and more. Great wine, great food, friendly people and most importantly the vineyards made this trip my most favourite wine trip to date. If you are a Chardonnay lover like myself then I definitely recommend saving up and taking the pilgrimage to this ethereal region.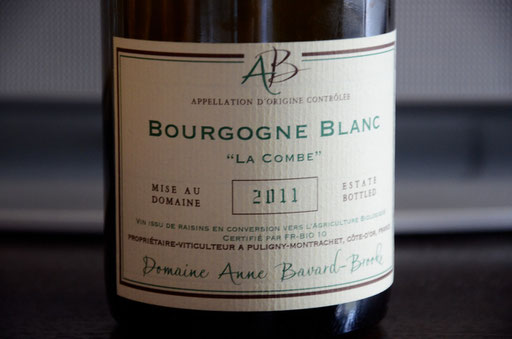 Domaine Anne Bavard-Brooks La Combe 2011
 
Domaine Anne Bavard-Brooks is a small domain in the heart of Puligny-Montrachet, France. They specialise in Chardonnay with two parcels of land including Les Equinces (1.9 acres) and La Combe (0.9 acre). They have been using biodynamic farming since 2005, and have been certified organic as of 2012. They produce only a small amount of wine, punching out around 2800 bottles a year from the parcel La Combe.
 
This wine was raised for 12 months in French oak before bottling. Crisp apple, lemon and butterscotch aromas are followed by pleasing notes of pear, vanilla, rockmelon and almonds. It finishes nicely with lovely minerality. A rising star. 91/100.