---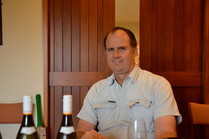 Michael Brajkovich (Winemaker Kumeu River)

Could you tell our readers a little about your background in the wine industry?
I grew up as a child in our family winery and vineyard which is now known as Kumeu River Wines. After high school I decided to study Oenology and Viticulture at Roseworthy in Adelaide. After graduating I travelled and worked some vintages in France which introduced me to the techniques of Bordeaux and Burgundy. After a few years I went to London to take the test to become a Master of Wine which I passed, this was an important momemt for me as I was the first in New Zealand to be named Master of Wine, I instantly became credible.
What grapes do you enjoy growing and why?
At Kumeu River we produce a variety of wines, including Chardonnay, Pinot Gris, Pinot Noir anf Merlot. Chardonnay is our specialty as the majority of our wines are Chardonnay. Pinot Noir is my favourite red variety which suits us well here in Kumeu, as the climate is favourable for these types of grapes.
You use a Lyre trellis system at Kumeu River, why?
With this type of trellising system the vines have more air flow and sun exposure which prevents vine diseases and increases grape maturity and quality.
Your Chardonnay has been named numerous times in Wine Spectator Magazine's top 100 wines of the year, what is the secret behind your success?
We use the best fruit from our vineyards which then goes through the important process of barrel fermentation in a blend of new and old french oak barrels. This is an important process for us as this is where the flavour is extracted. We use indigenous yeasts which gives more complexity and character to the wines as well as giving the wines a sense of place. The name of our flagship Chardonnay's are Mate's Vineyard and Hunting Hill as well as a Reserve Chardonnay which is more for everyday drinking.
Kumeu River is situated well north of the other viticultural region's of New Zealand, what is the Kumeu region climate like for growing grapes?
Kumeu's climate is kept cool due to its proximity to the Tasman Sea. The water helps generate clouds which moderate the climate keeping the temperature below 30 degrees. This temperature suits varieties such as Chardonnay and Pinot Gris. We also use the Lyre trellising system to match the climate parameters.
---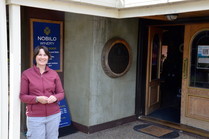 Katarine Sutherland (Winemaker Nobilo Wines)

Can you tell our readers about your history in the wine industry?
I grew up in Southland, New Zealand before I began studying oenology at Lincoln University near Christchurch. After I finished my studies I worked for a while in Marlborough learning what I could. I then done a few vintages in California and France before heading back here to New Zealand to work for Nobilo Wines in Huapai.
What state is the New Zealand wine industry in at the moment?
Today, it is quite difficult to create your own winery/vineyard and be successful. New Zealand has over 500 wine companies with a large amount of small-to-medium boutique wineries who are struggling with the current wine glut, and a small amount of larger wine companies who are taking alot of the market share and export sales, making big money in the process. New Zealand wine quality is better than ever with New Zealand now concentrating on quality and sustainable winemaking practices.
What does a winemaker do on an average day?
A winemaker usually spends alot of time managing and organising on the laptop, including wine quality, exports, workers, contacts and of course they keep a consistent watch over the wine aging, cleaning, bottling and sales.
What advise would you give to a student like myself, who wants to obtain a job as winemaker?
Study a tertiary degree at University and gather as much work experience as possible. Work two vintages a year, one in the southern hemisphere and one in the northern hemisphere each year. I also recommend getting some management studies and experience.
---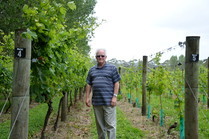 Harry Haddon (Viticulturist Twin Totara WInes)

How did Twin Totara Wines come to be?
I was about to retire and I was looking for a project to keep me busy. My son suggested that we create a vineyard and make our own wine. We first planted vines in the Kumeu/Waimauku region in 1997 and have been producing wine ever since. The vineyard is on a north facing slope that has two native Totara trees which gives the venue its name.
What are the pros and cons of owning your own vineyard and wine label?
Owning your own vineyard is alot of work. Having to do all the pruning, leaf plucking and hand harvesting can be hard work. I'm not getting any younger and I do the majority of the work on the vineyard, so some days it can be hard. Whereas making my own wine gives me a sense of happiness. Not having to purchase wine anymore is a nice benefit.
What wines do Twin Totara Wines specialise in?
We don't make a huge range of wines but we do make a few unique single vineyard wines, including a Cabernet Franc Merlot and a rosé. Our Cabernet Franc Merlot can be enjoyed for years, and our rosé is very bright and lovely to drink during summer. 
Is it hard being a boutique winery in today's market?
We do not make too much profit with our wines. Today most people prefer to buy cheaper big brand wines, than buy unique single vineyard wines like our Twin Totara, which cost double the price. I treat Twin Totara as a passion and hobby, we are definately not in it for the money.
---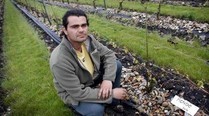 Murat Sufrakis (Owner Klagshamn Vineyard)

Why did you choose to become a winemaker?
The reason we started our vineyard, is because we have a passion for wine, beyond what can be called normal.
What do you like best about your job?
I like all things about my work. In the good vintages I like the wines, and in the bad/difficult vintages I like the challenge.  Both the work in the vineyard and in the celler is interesting and inspiring.

What is the most difficult aspect of making wine in Skåne?
The most difficult aspect of making wine in Skåne is to sell the wines. I see no big difficulties in growing or producing wine in our region, but as long as we have the monopoly (Systembolaget) we will never be able to compete with the rest of the wineworld.

I try to focus on the positive aspects of growing/producing wine in Skåne. We pick mature grapes at the end of september and the sugarlevels gives us around 14-15% alcohol and a acidity around 8 g/l  (total TA) , and by choosing the varieties we chose, we only use chemical fungicids once every season.
 
Do you see Skåne becoming a larger, more well-known wine region?
I hope that 20 years from now, people will talk about Skåne, as they talk about Central Otago nowadays. 20 years ago nobody (virtually) knew about the wines from Central Otago and today they make world class wine.

Where do you see yourself and Klagshamn Vingård in 5 years?
We haven't thought where we will be in 5 years, but hopefullly our wines will continue to rise in quality, the plants are getting older and hopefully we our getting wiser, so I see it as time is on our side.
---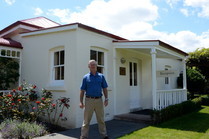 Rob Martyn (Head Winemaker Delagats)

Could you tell our readers a little about you background in the wine industry?
I first studied a Bachelor of Science and succeded in gaining a PhD in Chemistry. I then studied Oenology in Adelaide before working here at Delegats Wine Estate. I have been working here at Delegats for five years and now have the role of Group Winemaker.
Delegats is quite a large company. Is it tough being group winemaker?
It is tough but I do enjoy the challenge. I spend alot of time managing exports, wine handling, personnel and blend the finished wines. I climbed the ranks to be group winemaker more quickly than normal, mainly because I have a fairly strong academic record and I am older than most of the personnel here at Delegats.
Could you tell our readers about Delegats Wine Estate?
Delegats Wine Estate is one on New Zealand's largest wine companys. The company began with the croatian immigrant family Delegats who planted vines and built a winery in the Henderson region. They then decided to pull out the vineyard and plant in the more viticulturally benifical area of Hawkes Bay. Delegats is also the owner of the world famous Oyster Bay Marlborough Sauvignon Blanc.
What do you look for when you are recruiting employees?
I look for a tertiary education and a good track record of vintage work. I look to see if they have completed two vintages a year; one in the northern hemisphere and one in the southern hemisphere. Leadership skills is essential, so I recommend getting some management skills. I also look for people who have a good head on their shoulders and good punctuality.
Where do you see yourself and Delegats Wine Estate in the future?
I enjoy working for Delegats because it is a large company and they have good ethics to making wine. I see myself working here for many years to come. Delegats Wine Estate is fairly large right now and will probably concentrate on refining their techniques of growing, making, marketing and selling their wine. Delegats headquaters is currently here in Te Atatu but I think we could move south of Auckland in the near future. This is because it would be much easier to truck the wine up from Hawkes Bay and Marlborough.
---