---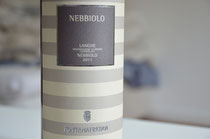 Fontanafredda Langhe Nebbiolo 2011
The Fontanafredda estate, developed in the 1800s, sits in the middle of the Langhe Hills in the Piedmont wine-growing region of Italy. The vineyards planted on these gently undulating slopes are home for Italy's muscular, brooding, long-lived wines of Barolo and Barbera that are forged from the Nebbiolo grape. Danilo Drocco has been the winemaker for the past ten years and has improved the quality of the wine and developed a reputation for producing exceptional wines.
This wine is exotic with a bouquet of violets, flowers, cherries and earth. The palate is classy with it's own a sex appeal. Soft, rich and seductive. One bottle of this wont be enough. Follow the website link below for more information.
---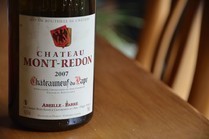 Chateau Mont-Redon Châteauneuf du Pape 2007
In 1157 The Bishop of Avignon first planted vines in Chateauneuf. In 1308 The pope at Avignon planted additional vineyards and was one of the first wine producers in Châteauneuf. However, it was years later when John XXII, a wine enthusiast, who began developing the reputation of Châteauneuf-du-Pape we known today.
This wine made from vineyards on the Mont-Redon property south of Orange has a vivid dark/blood red colour. Big aromas of spice, cherry and blackcurant explode on the nose. Deep-concentrated flavours of blackcurrant, oak and vanilla. Warm, Vibrant and brilliant, this wine is serious and can be laid down in the cellar for 20+ years. Follow the website link below for more information about the history of this famous producer.
---
Berton Vineyard was established in 1996 by Bob and Cherie Berton. Located in High Eden, a subregion of Barossa Valley in South Australia, the vineyard is substantial covering 75 acres of land. 
14.5% alcohol. This wine is huge in delivery. With deep garnet purple colour. Aromas of blackberry, stewed plum and jam, this is a typical big slap in your face Shiraz. The palate is dense, alcoholic with slight nuances of blueberry and overipe raspberry. This wine is made for australian wine lovers on a budget. Follow the website link below for more information about this producer.
---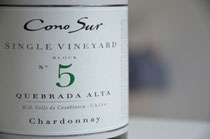 Cono Sur Single Vineyard Block 5 Quebrada Alta Chardonnay
Cono Sur Vineyards & Winery was founded in 1993, with the vision of producing premium wines that convey the spirit of Chile. The name Cono Sur refers to the company's geographic position- South America's Southern Cone, on whose western edge lies Chile and its gifted wine valleys.
The Block 5 Chardonnay was selected for its red clay soil and maritime influence. This vineyard is in one of the coldest regions in Chile which helps slow the ripening process leading to concentrated flavours.
The wine is one of the best Chardonnays I have tasted in recent times and at a price which is a steal. The nose has lovely butterscotch, melon, peach and honey notes. The palate is in perfect harmony with concentrated fruit and lingering acidity. The wine is mouthwatering with layers of complexity. A great example of why I got into winemaking in the firstplace- perfection. Follow the website link below for more information.
---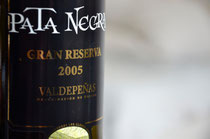 Pata Negra Gran Reserva 2005 Valdpenas
Valdepeñas is a Spanish Denominación de Origen (DO) located in the province of Ciudad Real in the south of Castile-La Mancha, Spain. The climate is extremely continental with temperatures that can reach 40°C in summer and drop to -10°C in winter. The DO is located on a plateau surrounded by hills and whose soil has a high lime content, over a subsoil of calcium carbonate, with good moisture retaining properties. The topsoil is pebbly, dark red in colour with a high lime content. The soil is poor in organic matter. The total area planted to vines is 29,600 ha. The most prized vineyards are in Los Llanos in the west and in Las Aberturas in the north.
This wine is drinking beautifully now after more than 7 years in the bottle. The nose shows wonderful ripe cherries and plum with layers of chocolate. The palate, is still showing concentrated fruit and silky tannins. A wine which is easy to finish and hard to forget.
---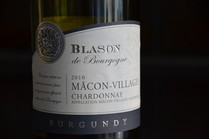 Blason de Bourgogne 2011 Mâcon Villages Burgundy
This solid chardonnay is made in the Mâcon Villages, south of Burgundy. Blason de Bourgogne is a large company consisting of 800 families, which have vineyards in Chablis, Auxerrois, Côtes et Hauts Côtes de Beaune et Nuits, Côte Chalonnaise and Mâconnais. Maconnais is located in the southernmost vineyards of Burgundy which streches for 40 km.
This wine has a golden yellow colour. Orchard fruits on the nose with peach, apricot and pear nuances. Crisp flavours of cites fruits are found on the palate with wonderful lemon and mandarin characters. Interesting floral notes make this wine crisp and easy drinking. 
---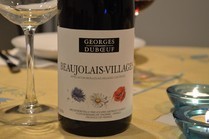 Georges Duboeuf Beaujolais Villages 2010
The grapes for this wine were sourced from the beautiful French region of Beaujolais north of Lyon. The wine boasts lovely cherry and sweet berry aromas and flavours. The fine texture and raspberry nuances is supported with a nice hint of bubblegum. This is a friendly wine that makes life that little bit more cheerful. 
---