---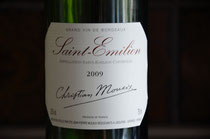 Christian Moueix Saint Emilion 2009 France
Christian Moueix comes from a family of French winemakers. His father Jean Pierre Moueix arrived in Saint Emilion, Bordeaux in 1937 where he founded his wine business. Christian took over the company as head winemaker and president in 1991 and has since established a world-famous reputation as a top wine producer. The vineyard from where this wine comes from is a beautiful piece of land near to Ausone and Canon. The soil is limestone predominant.
This is a big and bold wine. Powerful bouquet of plums, blackberry and charred oak. The palate is dense and spicy with flavours of tobacco, blackberry, plum and vanilla. The wine was fine and structured and opened up beautifully after a few hours. The wine should be cellared for another 5+ years before drinking. Follow the website link below for more information about this producer.
---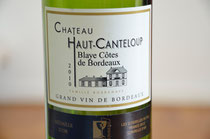 Chateau Haut Canteloup 2010 Bordeaux
Chateau Haut-Canteloup is a family owned and operated winery located in the municipality of Saint Palais de Blaye, Bordeaux. The winery produce fine red, rose, white and sparkling wines. This wine is made with 85% Merlot, 10% Cabernet Sauvignon and 5% Cabernet Franc.
The wine is strong and well-balanced, one that should be cellared for 10+ years. The nose shows big blackberry and woody notes with nuances of vanilla and earth. The palate is quite green but with futher cellaring should evolve into a memorable wine. Follow the website link below for more information about this producer.
---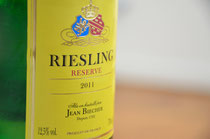 Jean Biecher Riesling 2011 Alsace
The vineyards of Jean Biecher are located at the foot of the Vosges, just below the Haut-Koenigsbourg castle. The Biecher family established their wine cellar in the village of Saint-Hippolyte in 1762 and have since become a world-renowned brand. Biecher runs three bottling lines and is one of the largest wine companys in Alsace. Riesling, Pinot Gris and Gewurztraminer are the main wines produced.
This wine is acidic in its approach with apple, peach and flinty minerality notes on the nose. The palate is sharp with layers of stone, peach and lime flavours. I believe this wine would be more palatable in a few years. Follow the website below for more information about this producer.
---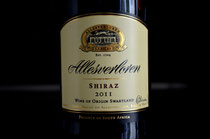 Allesverloren Shiraz 2011
Allesverloren means "All is Lost" and derives its name from an unfortunate historical event. This event happened when settlers in the region of Swartland returned from a journey to Stellenbosh in 1704 and found that their house had been burnt to the ground and the farm destroyed. Hence the estate's sad name.

Already by 1806, Allesverloren's owners had harvested the estate's first wine grapes and since the estate passed into the hands of the Malan family 140 years ago, Allesverloren has become a forerunner in the region's wine industry. The vineyard estate has 227 hectares and specialise in Shiraz, Cabernet Sauvignon, Tinta Barocca and Touriga Nacional.
The 2011 Shiraz is very powerful and concentrated. The wine has a bouquet of black cherries, plum and spoonfuls of pepper. The palate is spicy, oaky with layers of vanilla, plum amd pepper. I had this when it was too young proving my prediction that it would age nicely and should be cellared for 5+ years. Follow the website link below for more information about this producer.
---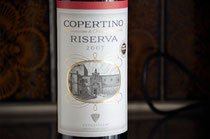 Copertino Riserva Negroamaro 2007
The Cupertinum is represented by 36 wine-growers who formed the cooperative Copertino in 1936. Today there are about 350 tenants who annually supply their harvest from approximately 400 hectares of vineyards to the cooperative. The different plots of vineyards extend throughout the picturesque landscape around Copertino and the neighbouring municipalities.
This wine is made from the Negroamaro grape, with minimal addition of Malvasia Nera, Montepulciano. The colour is cherry red showing its 6 years in the bottle. The nose is lovely with oaky, earthy and rich fruity notes. The palate is intense, juicy sweet, rich and warm with layers of almond and black currant flavours. A delicious buy at a very cheap price. Follow the website link below for more information about this producer.
---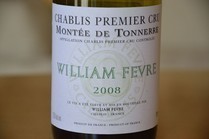 William Fevre Montée de Tonnerre Chablis Premier Cru 2008
This fantastic wine has its grapes sourced from the Montée de Tonnerre vineyards in Chablis where the marriage between Chardonnay and the Kimmerridgian soil is perfect.
13.5% alcohol. This wine displays a lovely bouquet of white stone fruits, flint and pear. The palate is elegant with flavours of white peach, lime and fine mineral characteristics. Mouth watering acidity is beautifully balanced with the ripe fruit. Elegant and stylish, this wine is worth hunting down.
---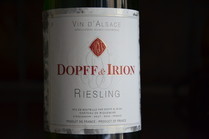 Dopff & Irion Riesling Alsace 2010
The company of Dopff & Irion came about when René DOPFF and Madame Irion joined forces to establish one of Alsace's mosr famous wine brands. The vineyards are located at Château de Riquewihr in Alsace, France where the terroir suits the cool climate grape varieties of Riesling and Gewurztraminer.
This wine is light, fresh and full of character. Aromatic nose with fresh floral characteristics. Good acidity and very dry on the palate. Solid wine.
---