---
Rosé is a fresh and fruity wine usually made from red varietal grapes. The process of making rosé is rather simple; the grapes are crushed and the skins stay in contact with the grape juice for a couple days. The skins and juice are then separated; leaving a juice that has close to no tannins, similar to that of white wine. The finished wine has a red/pink colour with a similar structure to white wine.
The Rhône and Provence region in the south of France is famous for being the region which produces the finest rosé wine. They use the grape varietals common to the region, like Syrah, Grenache and Carignan.
I was surprised to see the popularity of Rosé with the locals during my stay in Aix en Provence, and how my attitude towards rosé changed from my visit to Provence. I must say that I've never been a big rosé drinker, preferring a quality red during the colder months and white wines during the warmer months. The wines that I tasted in Provence were well crafted, delicious and memorable. The local winemakers in Provence showed immense pride in their rosé wines, more so than there white wines. Rosé is now beginning to loose the tag as a wine that is only drunk by females, and predominantly young females. More and more people are enjoying rosé wines, either as an aperitif, with lunch or with a light dinner.
USA is the new big producer of Rosé in the world market. California makes rosé in a way that is sold in a low alcohol, fruity style, which suggests a target market of younger people. The increase in these sweeter wines being purchased has traditional producers excited about the future of rosé and wines itself, as rosé becomes more and more popular.
The future for Rosé looks promising as more consumers are now drinking them and more producers from new countries are making them. It will not be surprising to see the production of rosé increase as customer demand and climate temperature increases.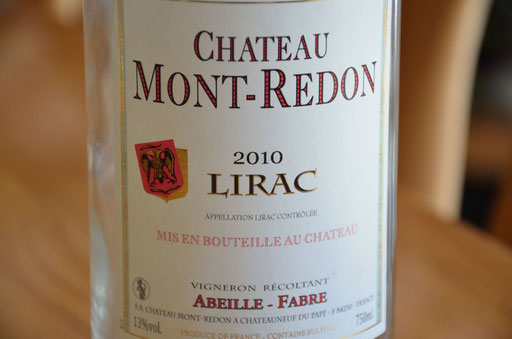 Chateau Mont Redon Lirac Rosé 2010
13% alcohol. The best rosé money can buy. This wine has a great nose with strawberry, peach and apricot nuances. On the palate there is bright fruit balanced with subtle layers of acid. Raspberry and strawberry fruit along with peach flavours add to the complexity. This wine showcases the terroir of the Rhone region beautifully.